---
2023-09-04
I'm by no means the first amateur photographer in my family. My father is a passionate photographer and has been one almost his entire life. And, one generation earlier, my grandfather also was documenting a lot of their family life on photographic film. Since he spent most of his lifetime before the advent of digital photography most of his work is on slide film (which preferred to prints since it was cheaper overall and easier to store). I actually remember watching (at times a tad lengthy) slide shows of my grandparents travels as a kid!
Since my grandfather passed away in the late 2010s my parents have kept his photographic archive in their attic. Sometime during the stay-at-home years of the pandemic I got interested to take a look at what is in that very archive. After talking with my father I picked up two of the many boxes of slides to see if I could scan them on my Nikon scanner. I definitely underestimated how much work that would entail!
The box I'm showing here is from the 1960s and contains about half a decade of travel photos. Here you can see what I got form the attic on the outside: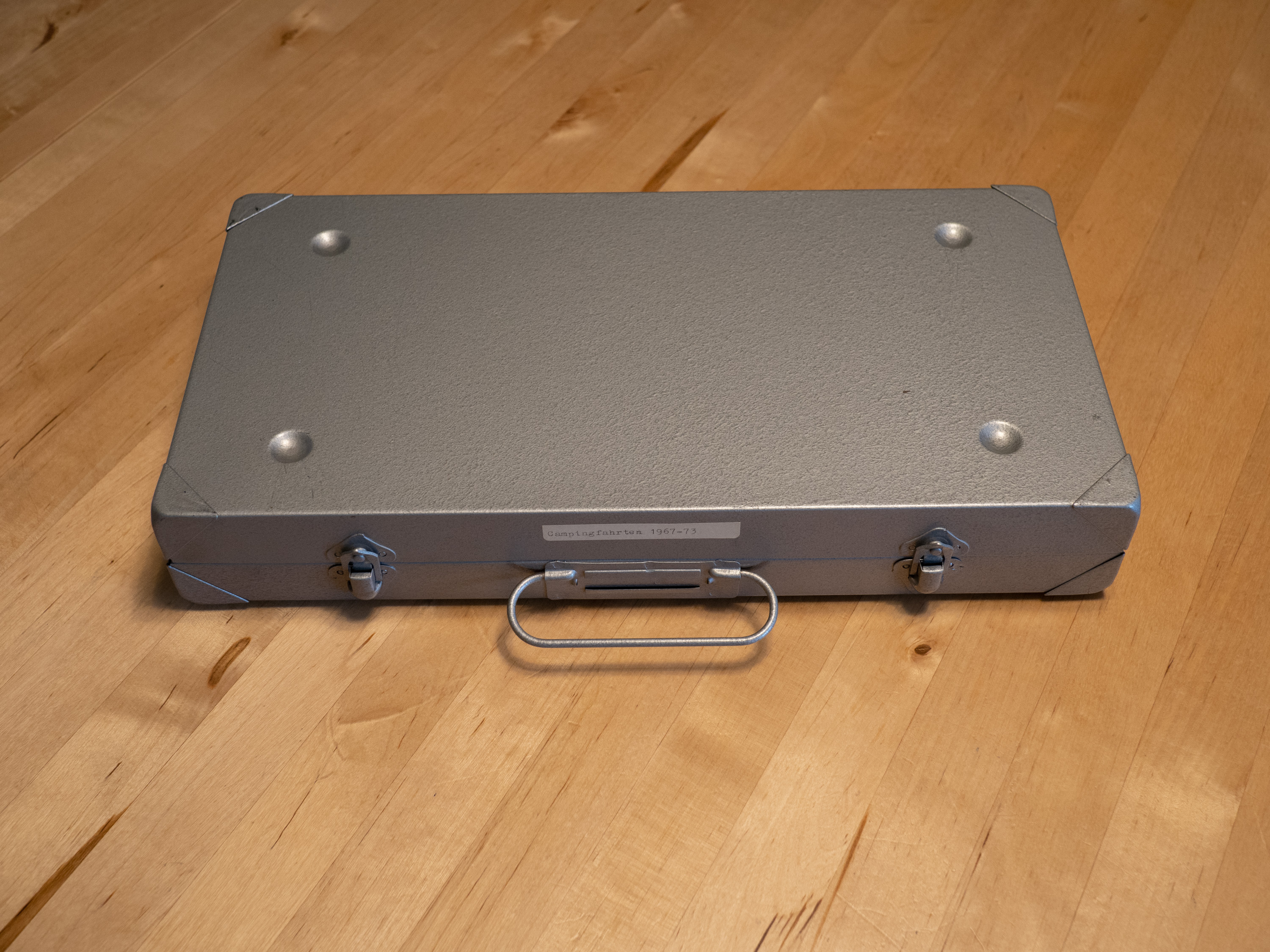 The box certainly looks like something from the 1960s
Opening the box up you can see six slide magazine holding about 36 slides each. On top of them there is and index card (typed up on a typewriter) with some annotations at the margins. (As you would expect for something typed up over a period 5 years.)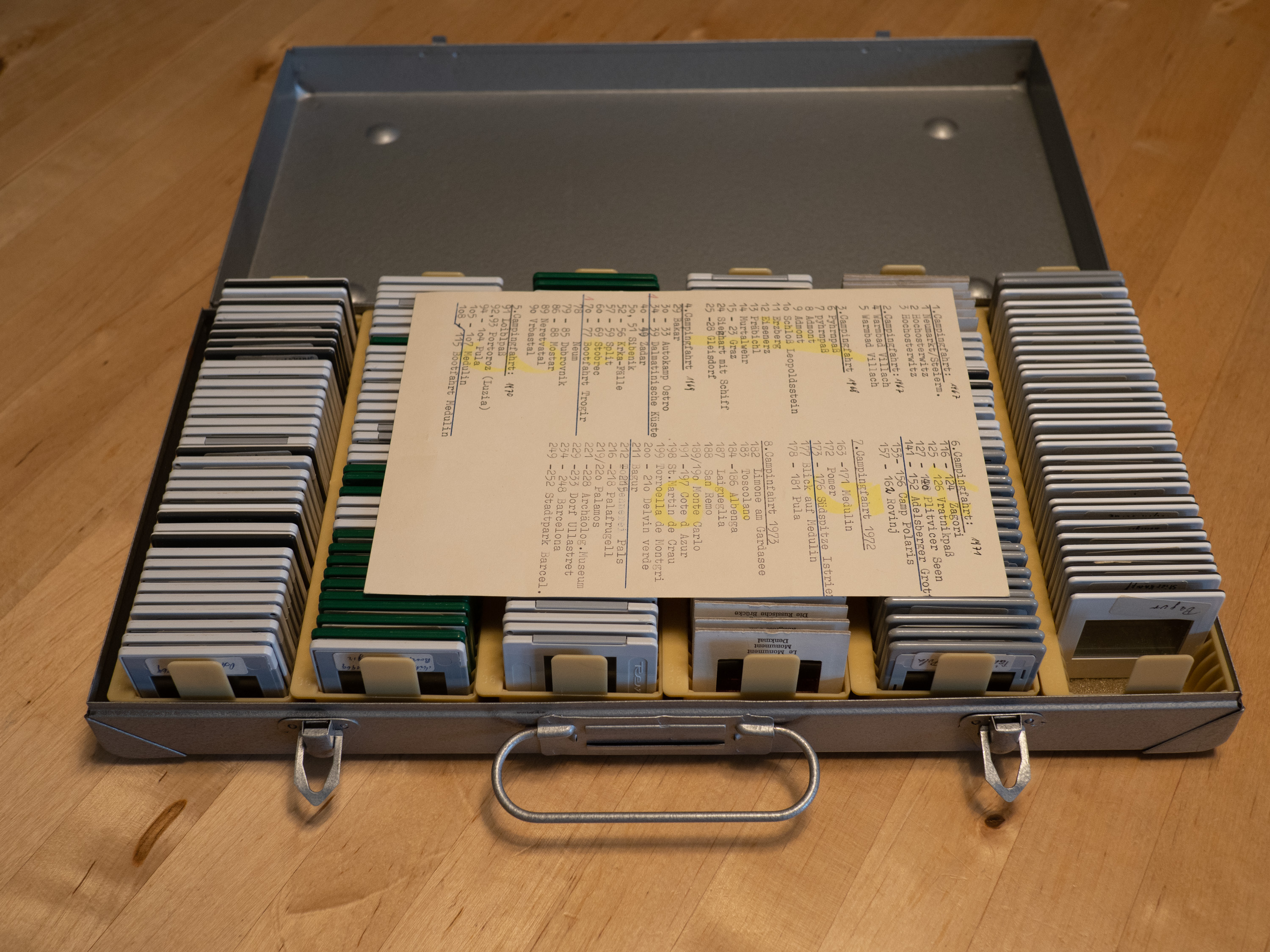 Inside is a typewritten index card and slide holders
Here you can see the index card in all of its glory: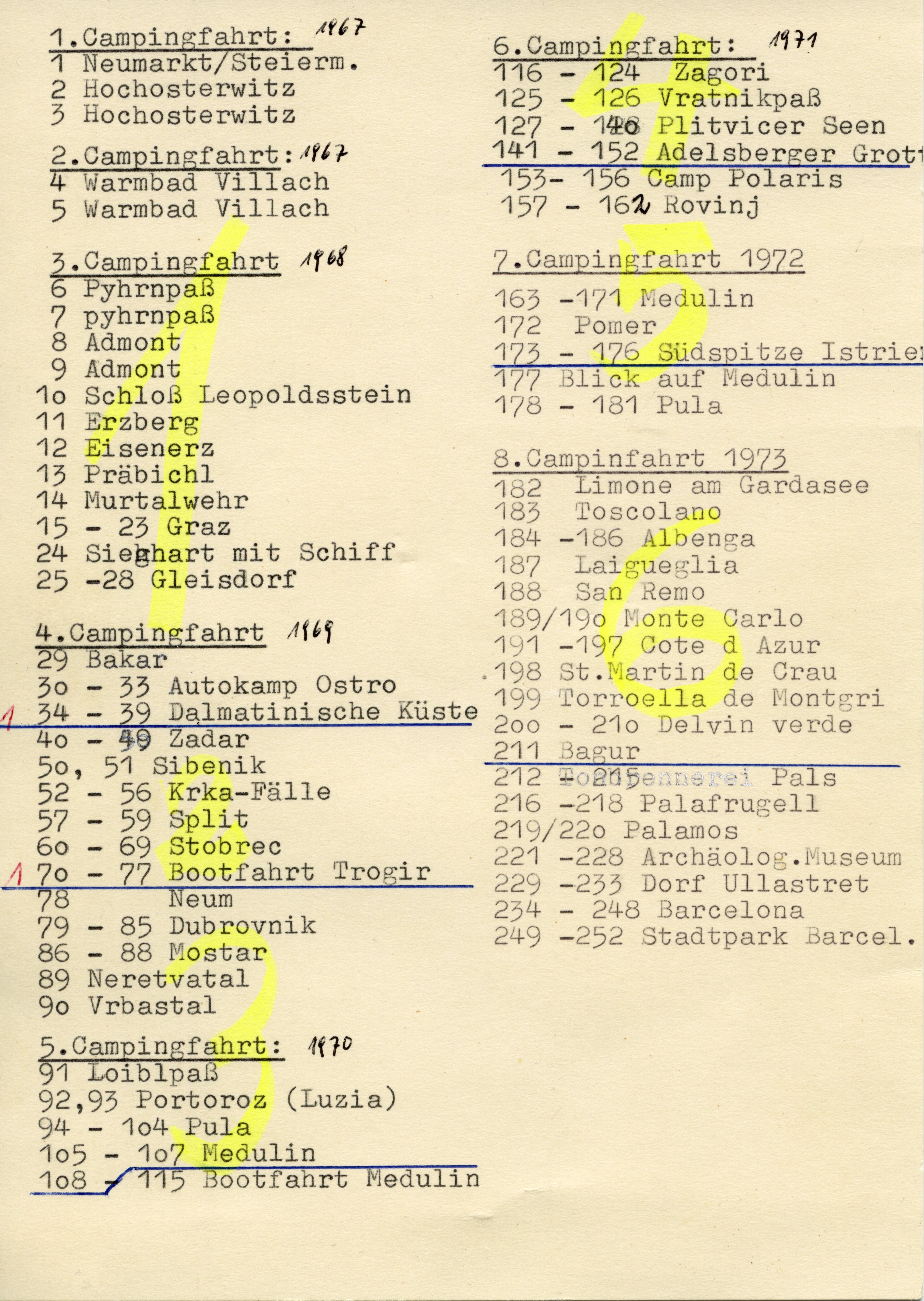 A scan of the index card, noting each slide in each holder
After removing some of the slide trays I found some remnants of a foam that is probably the source of some of the dust that I found on the slides: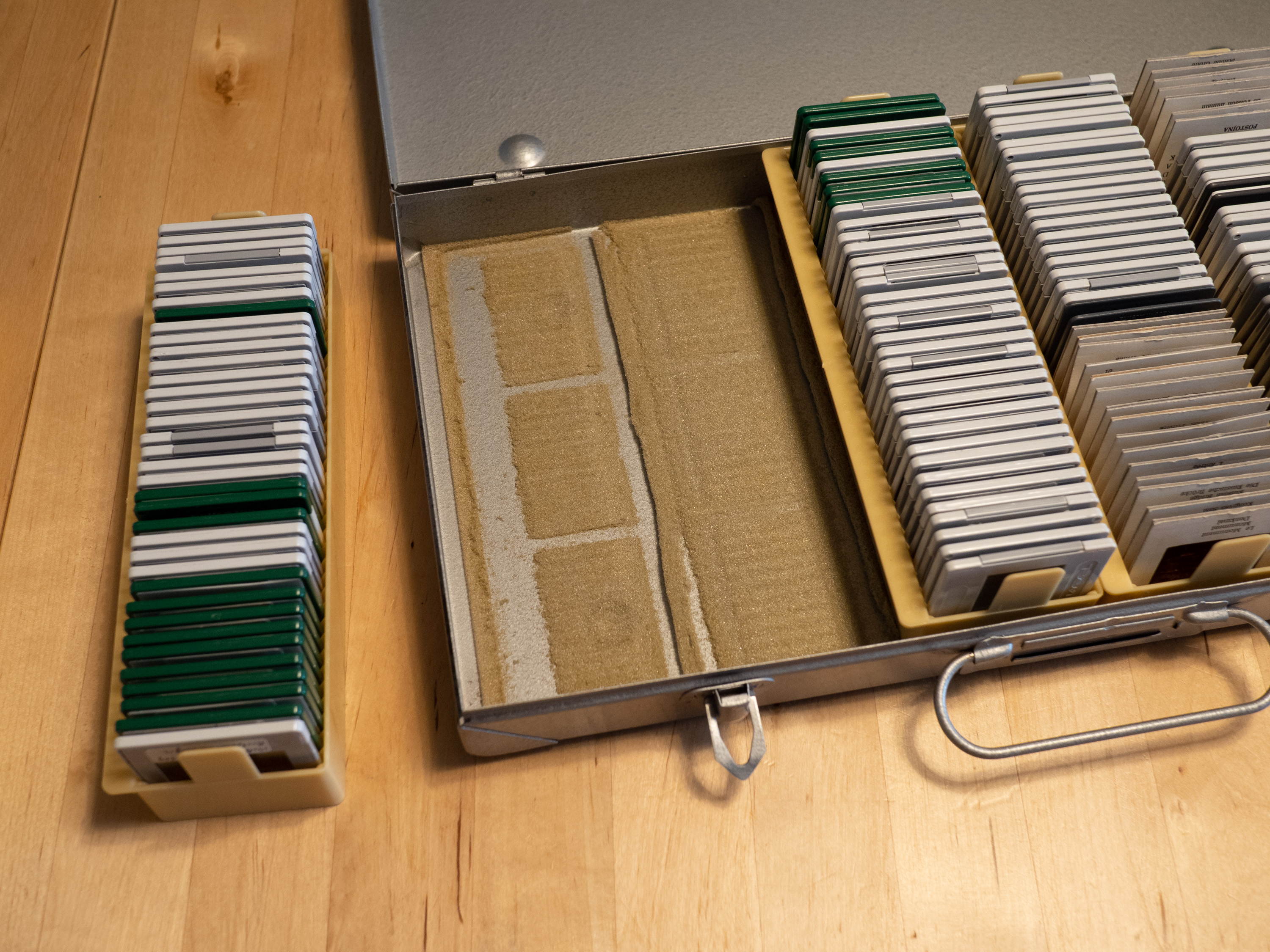 Not everything held up to the test of time - that foam turned into dust
After removing most of that dust I started to dig into the slides and was pleasantly surprised on how well these have held up given that they are more than half a century old at this point! Even the colors of most slides have not faded as far as I can tell.
And finally the goods - a single slide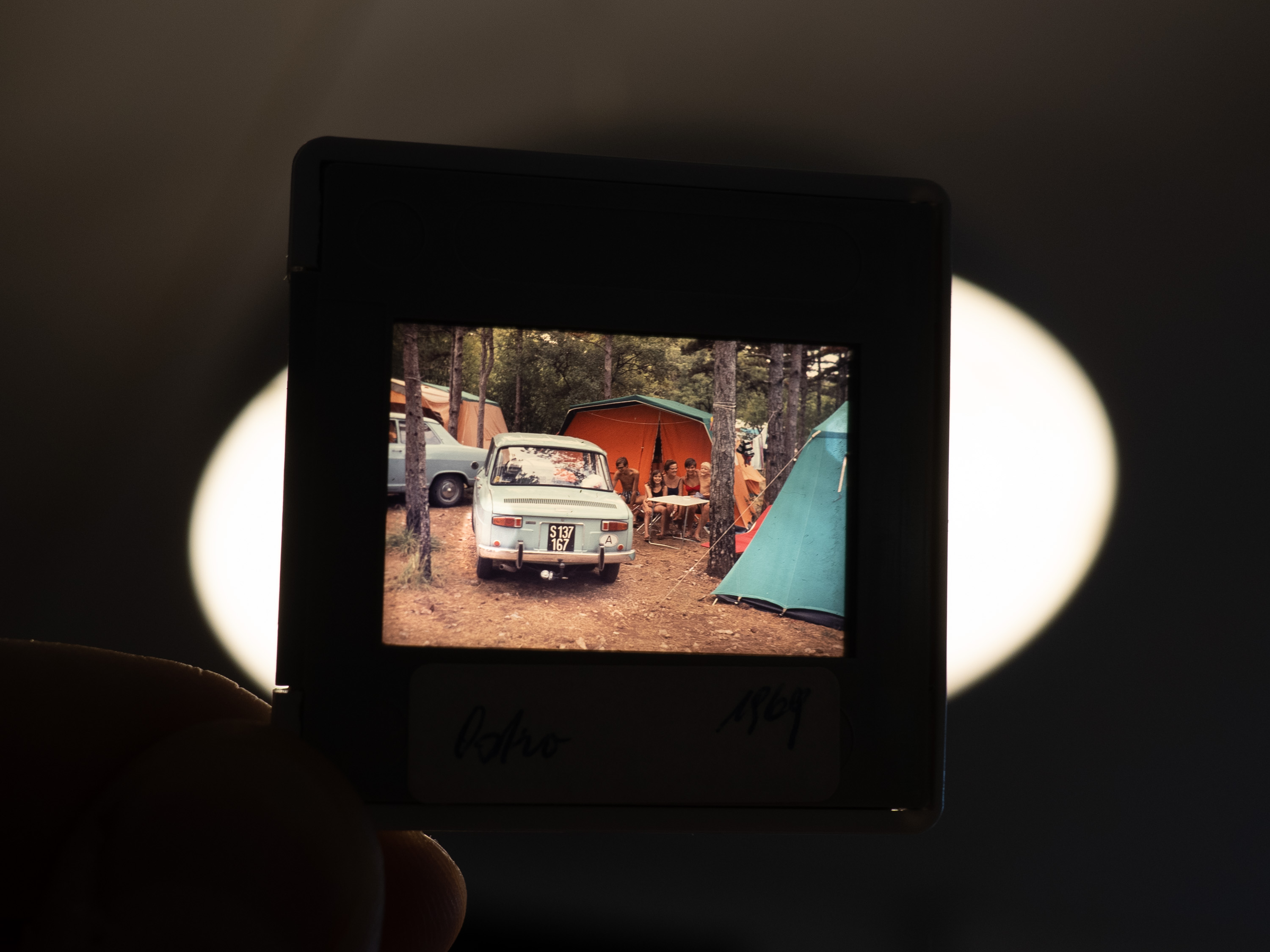 Holding the slide up to my lamp these are still a bit magical
Nevertheless the slides needed some care. They are all mounted in frames with glass on both sides and there were some streaks on the inside. I ended up removing the glass for each one of them, cleaning it and the slide itself and remounting it before scanning. A lot of work per slide but the results are actually very decent! Here you can see the scan of the slide I was holding up to the light in the other picture: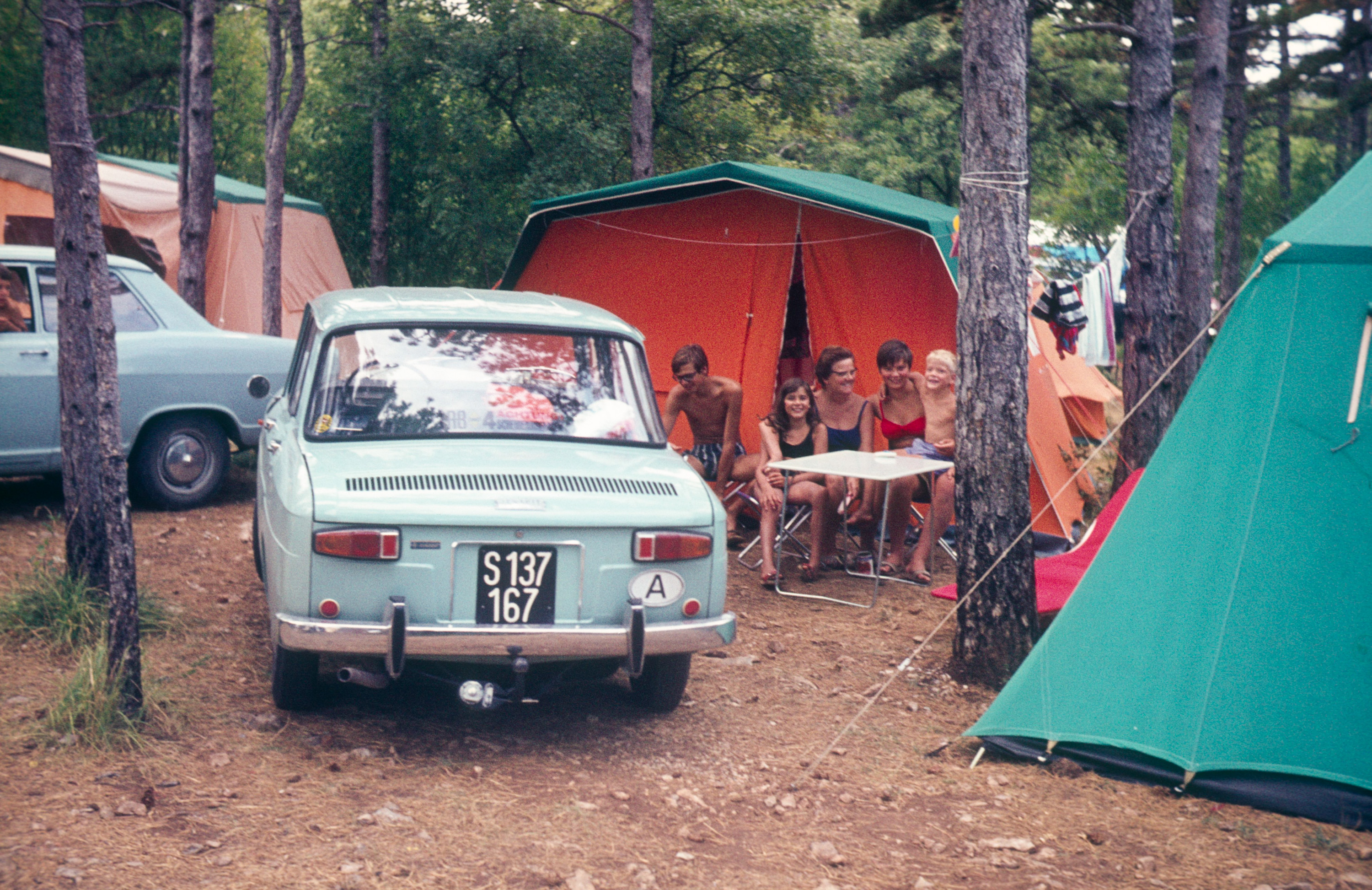 Dalmatian Coast, 1968
And here are my grandparents and family crossing the Alps with the same small pale blue car, which apparently was large enough to get six people from Salzburg, Austria (where they lived) to Croatia (back then a part of Yugoslavia):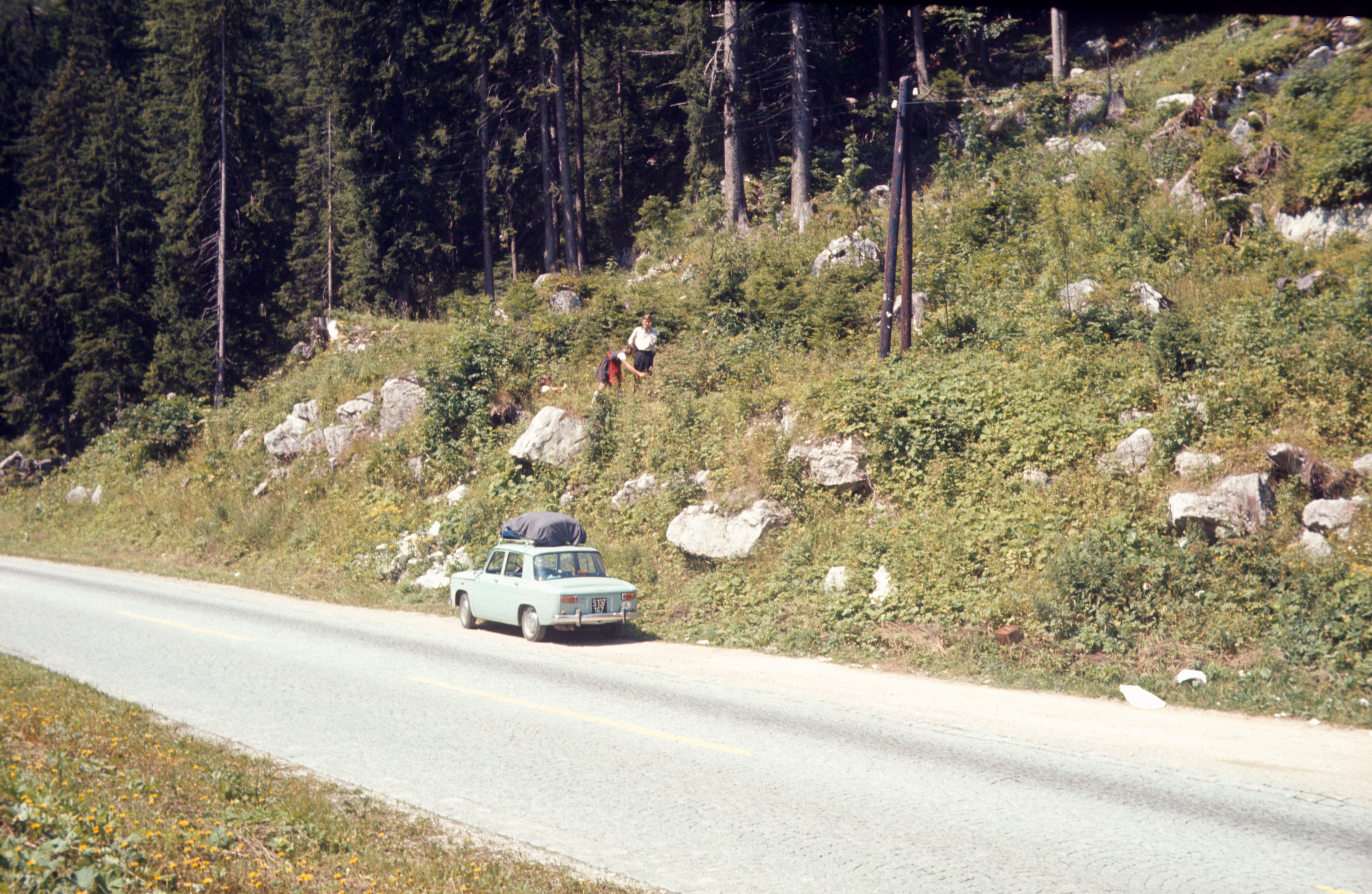 Pyrnpaß, 1968
Another one of the slides also shows my father as teenager overlooking some ruins: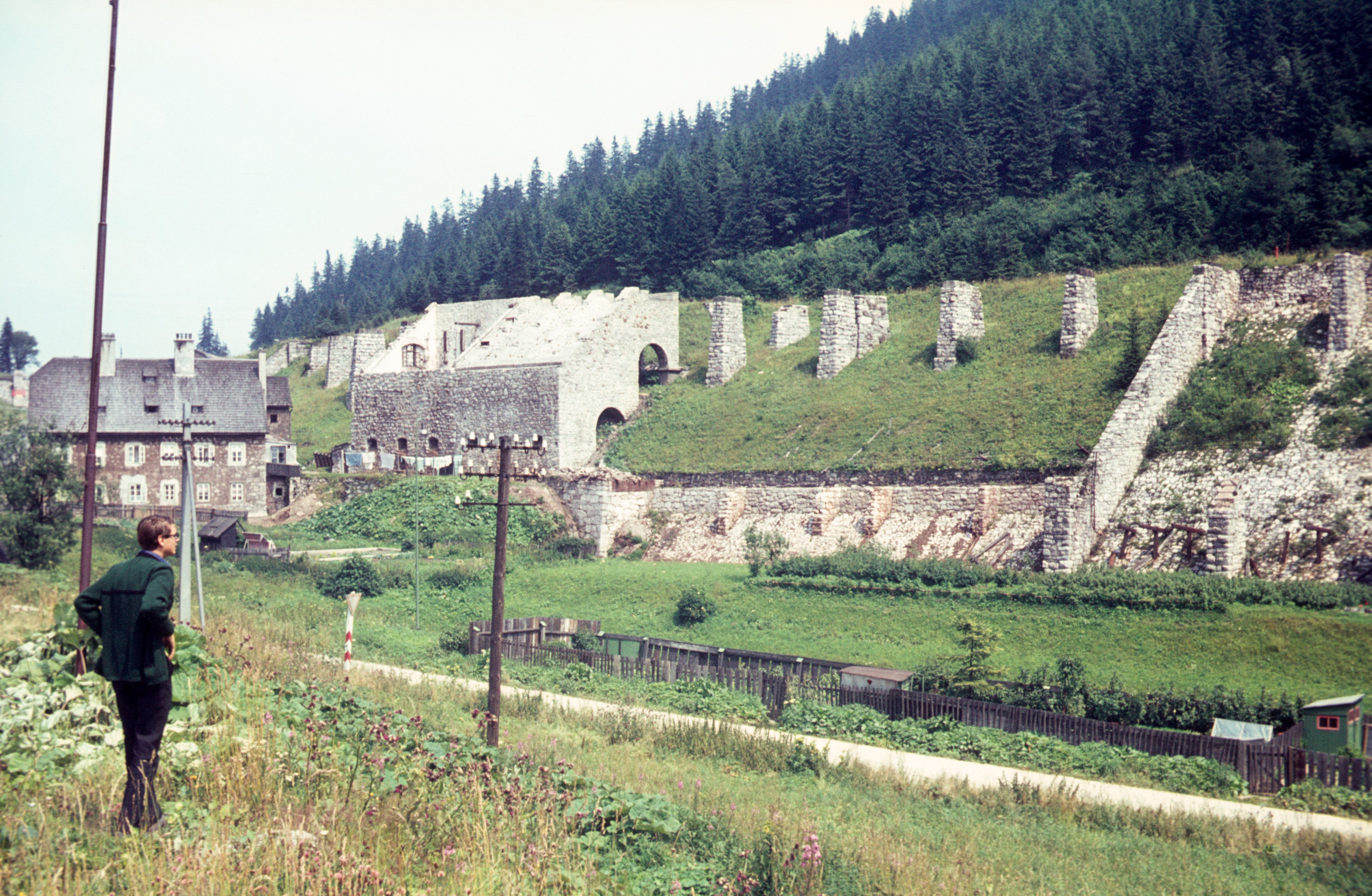 Präbichl, 1968
I was able to find the spot that the picture in Zarda was taken on on Google maps and the comparison with the Street View image is really something: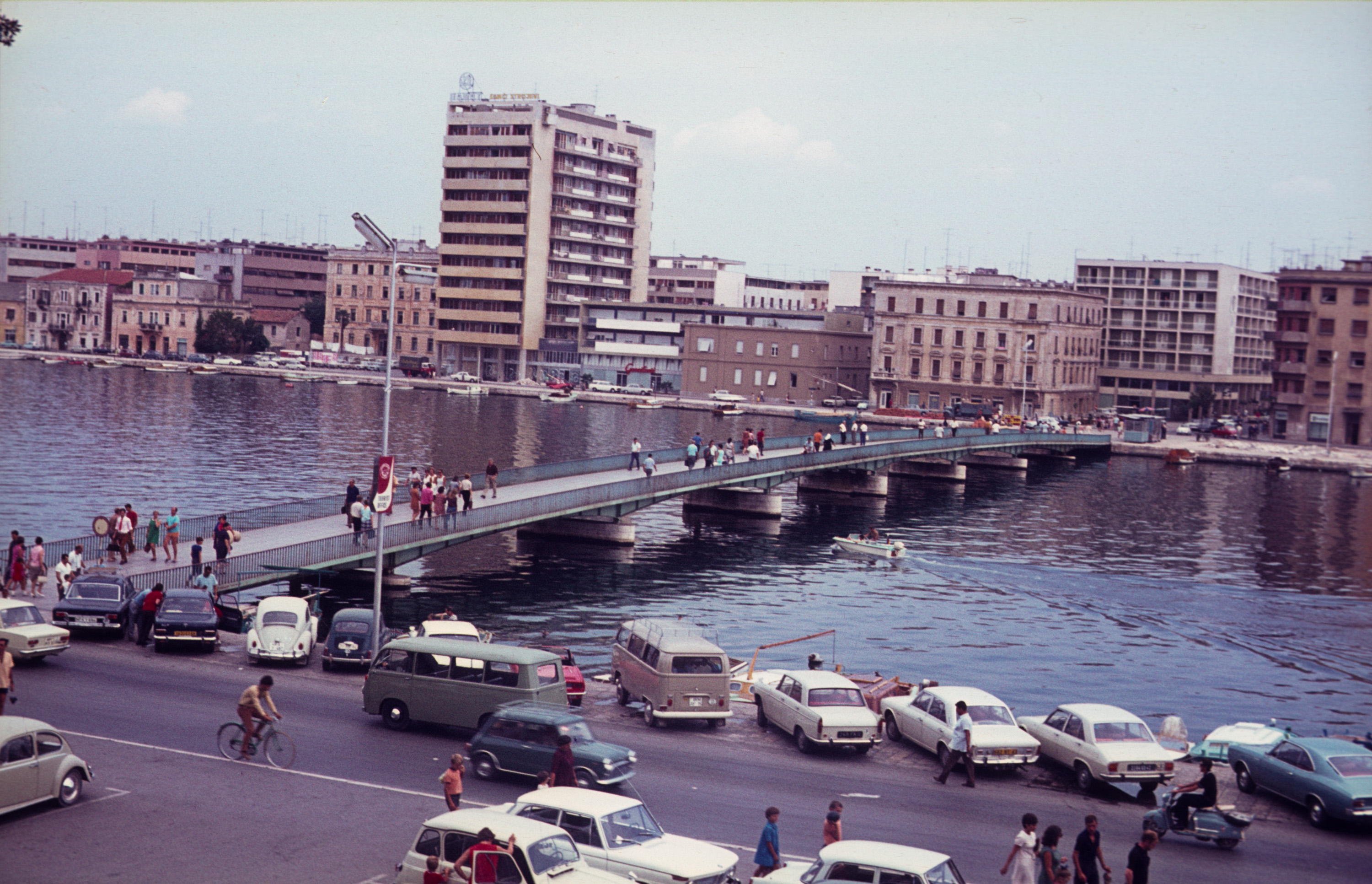 Zardar, 1969
Click the image to jump to the Google Street View location!
The next slide is the Mostar Bridge. Since my Grandfather took that photo the bridge was destroyed in the Croat–Bosniak War in 1993 and then rebuilt in the 2000s.
Mostar Bridge, 1969
And finally here is a camping ground in Rovinj that is still around: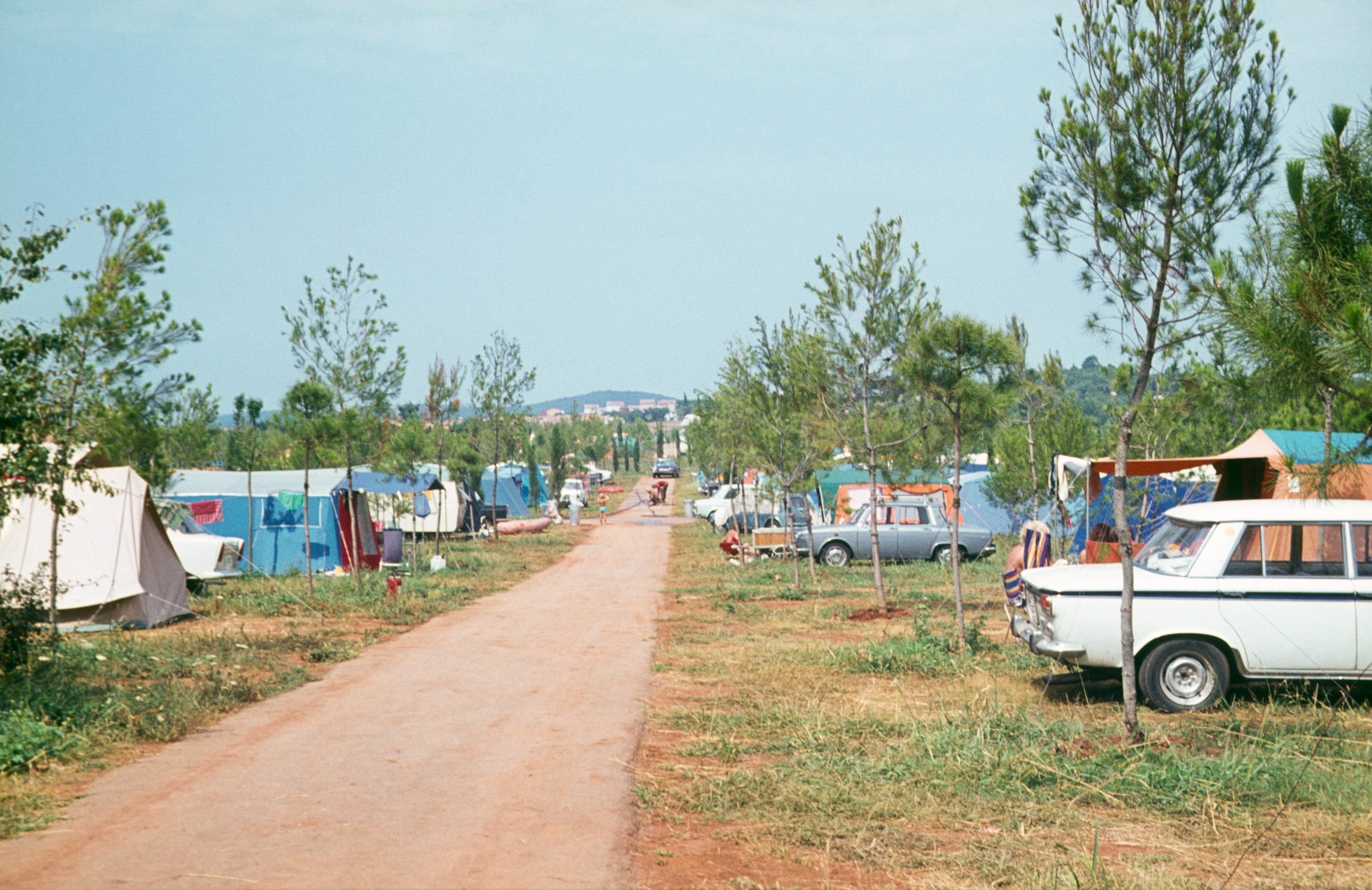 Camp Polaris in Rovinj, 1972
Overall I'm (again) impressed how well these have held up. I found some grime and dirt on them but that was easily removed. Beyond that there seems to be hardly any fading on the pictures that my grandparents took. There are some commercially produced slides of major tourist attractions that were in the box and these have faded much more strongly, I suspect that manufacturing companies cut some corners in processing these. Oh and for those interested: going by edge markings and what was on offer back then most of the slides where on Agfa CT18 and processed AP-41 (Agfachrome Process 41)!
Overall this was a fun experience and maybe next winter I'll dig up another box and see how it held up.